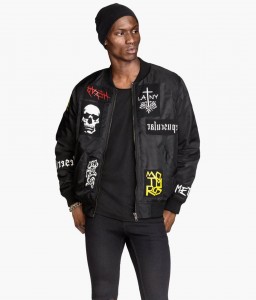 Tästä kuvasta kaikki alkoi. Alkuviikosta metallin maailmaa, ja miksei myös hieman muodin maailmaakin, vavisutti levy-yhtiö Strong Scene Productionsin julkisuuteen tulo "yhteistyöstään" vaatetusliike H&M:n kanssa. Vaikka todellisuus yhteistyöstä ja Strong Scenen vakavissaan olosta on jo sittemmin tullut varmasti kaikille selväksi, eikä kyseessä ole kuin Henri Sorvalin (Finntroll, Moonsorrow) yhdessä avustajiensa kanssa luoma loistavasti onnistunut kulttuurihäiriköinti, niin musiikkia tähän vuosisadan trollaukseen myös tehtiin. Toistaiseksi Strong Scene Productions ei ole lupautunut julkistamaan lisää levy-yhtiöllä esiintyvien "bändien" materiaalia, mutta aika näyttää, sillä onhan useat näistä kvlt-yhtyeistä buukattu jo mm. Tuska Open Airiinkin esiintymään. Kaaoszine yhteistyössä Strong Scene Productionsin kanssa tarjoaa teille nyt mahdollisuuden kuunnella Strong Scenen tähän mennessä julkaistut kappaleet. "Support The Scene"-kokoelman voit kuunnella tästä:
Mystic Triangle – "Red Cave, White Mountain"
Northern lights flamed up the skies, dark spells were cast. Mystic triangles appeared in the clouds. Jonathan and Lady Darklight entangled in the act of joinment under the pale full moon. The mystical music was heard in the ether… This spawned the lust for new group which is to be called the Mystic Trangle. The music in the ether was celestial in nature but the group needed to be more earthly to spread the word of celestial love and togetherness. Thus was chosen the medium of Doom Rock. The seances needed to be gathered so Mystic Triangles needed more flesh and blood this lead to new priests to enter in form of George and Paul.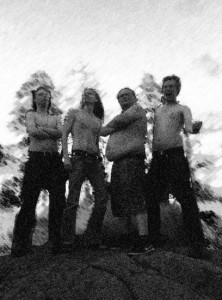 Motmros – "Holocaust Tomb"
Hailing from Lauste, Finland, Motmros is one of the most brutal and HELLISH bands around! All freaks should definitely check them out!!!! Formed in 1989 by brothers Jakke and Sepi, their first demo "Ritual Throne of Golgotha" was sold (they still have a couple of copies left so contact Sepi if you missed this piece of brutality -ed) a huge amount and now we´re proud to finally release their first official 7″ which should be out when you read this! Expect brutal and grave- stenched occult METAL OF DEATH from these guys- also preorders are also welcome! Motmros will be playing this summer in Lieto Metal Massacre, so get your dose of headbanging live as well if you happen to be around!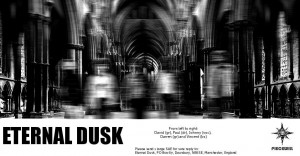 Eternal Dusk – "And Then We Breathe (Silent Romance)"
The story of this England based band started forming in autumn 1989 when the band formed. They began to write death-like music with strong doom influence and immediately began to play live around their home town Manchester. They quickly made name for themselves in the area as they played to good crowds supporting bands like PARADISE LOST and BOLT THROWER. In January 1990 they decided to record a demo so they entered NS studios in Manchester. The first demo contained 4 songs and it sold rather well in the underground tape trading circles. With the demo the band got a recording deal with PIECEWILL Records and the album was released in September alongside with Anathema's "Serenades" and Autopsy's "Acts of the Unspeakable". Now this five piece unit including brothers David (gr) and Paul (dr) with Johnny (voc), Darren (gr) and Vincent (bs) established as one of the most inspirating band in the UK doom/death scene. The new album with songs like "And Then We Breathe (Silent Romance)" shows a huge potential of ETERNAL DUSK satisfying the most depressive souls with music where every little part of it affects you with maximum power transforming the psychic state the way you certainly never been thrown in before!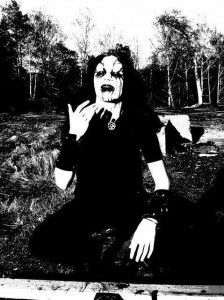 Lany – "Untitled"
A fierce representatative of the French Black Legions (Les Legions Loiris), Lany is known for multiple small releases without any full- lenght albums. Formed in 1998 by Schlomok Drakkstein and Aä, the band is currently been on hiatus since 2001 due to problems with the French anti- revisionist laws. The rare recording, "Rehearsal Evil" was originally found from an ex- member´s apartment and released later by Run Q Wist Productions later in 2002. Known for a hostile attitude towards any press, the band constantly refuses to associate themselves with the media.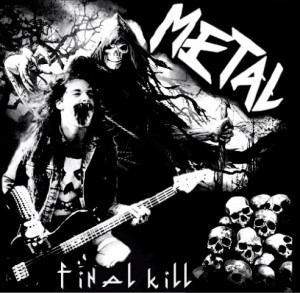 Metal – "Final Kill for Power"
Early in the 80s when the UK was the hotbed for the roots of extreme metal with acts like Venom and Saxon raising the bar, Iron Maiden still delivering the goods and with cult punk acts like Discharge gaining a loyal base the mighty METAL was born. This UK power quartet fused the punk/metal hybrid to another level with their first label outing, a 7″ vinyl titled "Final Kill", in 1984. These 2 songs reeked of pure angst and violence. Soon after the release of the 7″ the band were on national UK-tour and on the second gig in Cardiff the band got into a heated discussion on stage about their image. Things lead to another and the next morning the band called it quits. This was the end of possibly great career. The legacy was still born. Bands around world cited METAL as their main influence and as Jeff Hanneman of SLAYER once said "If there wasn't METAL 'Haunting The Chapel' would have not been created and SLAYER would probably have disbanded after 'Show No Mercy'.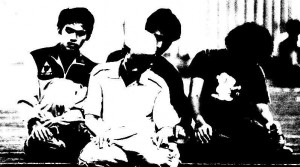 Yvaeh – "Vaginal's Juice Driping into Cadaverous"
Murton, Rajen and Tigger formed Yvaeh in Penang City, Malaysia in summer 2000. They were students at Penang Institute of Law at time and loved bands like Carcass, Gore Beyond Necropsy and Lividity. Soon they started playing covers of those bands to relieve stress caused by the heavy studying and in autumn they already had their first songs rehearsed. All was well at first but then Tigger´s mother unfortunate got sick with paramycosis and all the members were very sad. This sadness and frustration they channeled into their demo "Anal Fester" which was released in march 2002. Yvaeh has played in bigger festivals here in Penang, for example "Penang Big Heavy" and "Mala Metal" but unfortunately no such bands exists nearby so they have to play in small places most of time. Yeaveh brings you discharging vaginal and guttural grind- GORE so if interested, email us and ask for gig!
Grey – "Death of a Rose"
The band was formed in late 1993 by Draken (guitar, drums ) and his wife Vampiria (vocals, keyboards). Draken (Uli Becker) and Vampiria (Magda Schultz) met each other when Vampiria was studying opera singing at the Rudolf Weingott Musikschule in Chemnitz. Even though she was only 16 years old, she was also considered as one of the most talented singers in Germany. And when her beautiful voice was combined with the genius work of self-taught multi-talent Draken, GREY was found. In 1995 Naplam Records released their debut album "Wine and Tears" (recorded and mixed by Hans Holtz @ Blitzkrieg Studios, Leipzig). The album was praised by the press world wide (9/10 Mental Hammer), but did not find it's audience. Band changed their language to German and made one more demo "Der Herbst", but decided to quit soon after that. After GREY Vampiria has visited in various metal albums but due to laryngitis was forced to quit singing.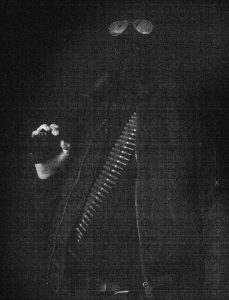 Crepuscular – "Sign of the Antichrist"
Crepuscular comes from Mexico City and they play war metal. The band formed in 1991 with like of Scarfago and many songs have been recorded. The singer H. Muerte y gitarra says that "Crepuscular has been around with no wimping and pussying and now our second demo tape is out to destroy you!". Back to Womb was recordo in 8- track studio with intention to spread chaos y alcohol on tape. ONLY REAL WAR METAL- NO RIPOFF- MEXICAN SADO MORBIDS 666 Contact through Cogoliha records.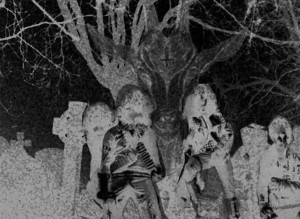 Blast – "Vinterberget"
BLAST started in 1985 as a Metallica tribute band called The Lightning Riders but a year later when Metallica went to shit they started looking for something else. Through international tape trading circuit they received some really nice compilation cassettes with Bathory, Celtic Frost and Venom. They found their calling. After changing their name to BLAST they decided they needed names like Cronos, Qurthon and Warrior. Then was born Firebreether of HELL, Hellgoul and TORMENTOR of skins! Now after rehearsing very much the band has released their first demo called Demo'98. It includes 2 songs Vinterberget and Storm i Skuget written in Sweden because it is our second native lick. We want a record label to give us money and to release our albums! Our lyrics are national and about rape. Born for Burning!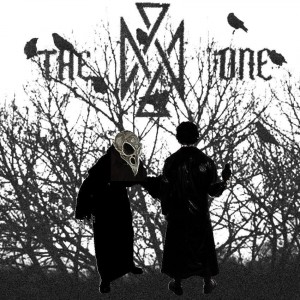 The One – "With Lucifer"
Formed in 2007, Welsh 2 piece The One is Nigel Cotswald Mathers and Dafydd Gunderson. Hailing from Abergavenny and performing our Unique Blend of Progressive and avant-garde folk music, inspired by nature, the woods, Tolkien, Crowley, Nietzsche and Kierkegaard, The One will be bringing Live its melancholic message of Ancient Wisdom across Southern Wales in 2008. Signed with National Heritage Pride, the With Lucifer EP is available for purchase on compact disc, mail dafyddgun667@hotmail.com for details. For bookings mail bookings@NHPRecords.co.uk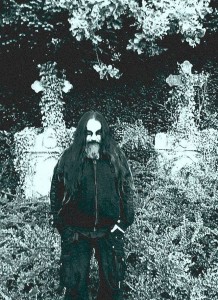 Mortus – "Anticristo Eleva"
Mortus is Lord Sutrom's (also known as El Macho Cabron) one man project. According to Lord Sutrom, Mortus was founded during a total eclipse of the sun at the Teotihuacan pyramid where Lord Sutrom was working (selling souvenirs? -editor?s note). When the sun turned black as night he had a vision of goat horns portruding through the walls of the pyramid. He knew that Satan was to take his soul and guide him to victory. The purpose of Mortus is to serve the almighty Sathanas and spread the black semen of the holy goat onto all lands. Mortus has recorded 2 demos: Viva la Cabra! (1999) Sutrom (2000) Lord Sutrom is still working on an EP called ESPERMA MAL DE SATHANAS.
Kommentoi julkaisua